Two 2023 beauty trends are going to explode beyond this year. Your beauty brand can hyper-grow by either riding a category trend early or eventually winning a trend that will shape the industry for good. Remember, just because these trends are big does not mean you have to follow them; rather, never follow a trend but lead it.
Here are 2 such trends that can potentially disrupt the beauty category beyond 2023.
1. Hyper-Personalization Beauty Trend Driven by Technology Beyond 2023
According to McKinsey's findings, a personalized shopping experience is anticipated by 71% of modern-day shoppers. And when this doesn't happen, over 75% of the shoppers are disappointed.
The research further suggests that personal customization can significantly influence consumers' life cycles. 
Drivers of Hyper-Personalization Beauty Trend
Personalized Beauty Products for Better Results
Consumers are likely to make repeated purchases from businesses and endorse them to their family and friends, providing a personalized experience. 
Only 20% of consumers wouldn't recommend such companies, while the rest, 80%, are inclined toward personalized products. 
Research on the beauty industry by Nosto indicates an increased demand for personalized products by consumers.
According to Nosto, 58% of beauty consumers prefer buying from companies that offer online quizzes that suggest specific products according to their needs and preferences. 
This technology has taken a step ahead with the advancement in VR and AI as beauty brands develop online product trials, such as foundation shades or hair colors. 
As per Nosto, 45% of consumers are inclined toward such businesses as it provides an in-store (actually better than that) experience from the comfort of their homes. 
 Function of Beauty (hair, body, and skincare company) uses a quiz to provide personalized products for a consumer's specific needs. 
The brand's shampoo quiz is mainly famous as it considers factors like hair type, concerns, and goals to create products with ingredients suitable for the consumer.
Atolla, acquired by Function of Beauty, launched a skin testing kit in 2019 to measure the pH, hydration, oil, and absorption. The consumers use the kit to analyze their skin at home with AI technology and send the results to the company. The company then formulates customized face serums with ingredients suitable for the customer's skin condition and goals. 
Search clicks for "Function of Beauty" are up by 70% from March to April.
Consumer's trust & endorse custom-personalized products
The tech company Revieve provides a consumer-centric personalized digital beauty experience through AI/AR. The company targets the beauty industry specifically in areas like skincare, hair care, sun protection, nutrition, and makeup. 
Beauty companies like Oriflame, Shiseido, Philips, Garancia, Bioderma, etc, have joined in with Revieve to provide their customers with real-life try-on experiences and personalized product suggestions. 
In 2021, another brand, ProvenSkincare, launched a 3-minute Skin Genome Quiz™  quiz that analyzes the consumer's skin and lifestyle to suggest personalized products.
"I tried Proven Skincare for a month, and my skin is thriving" – says a consumer of Proven Skincare.
Many beauty brands, new and old, are moving toward AI technology to come up with personalized product recommendations for attracting a larger audience.
Proven Skincare's sales went up from <$100k in 2019 to $20M in 2022
Hyper-Personalization induces hyper-compliance
Another example, Unveil Perso is a mobile app launched by L'oreal Skincare that allows consumers to get personalized skincare and cosmetic products based on their skin condition, concerns, and environmental factors.
The app uses AI technology to analyze conditions like fine lines, wrinkles, dullness, firmness, pore visibility, hydration, etc and asks several questions about their skin goals to come up with the perfect product for them.
After proper analysis, the Perso device develops the product formulation on the spot. 
Consumers who tried the recommended formulations showed significantly higher compliance to "how to use and when to use instructions" delivering unprecedented results and creating a virtuous cycle.
Perso by Loreal Skincare develops custom formulation instantly
Consumer Intimacy driven by Consumer to Business
E-commerce is set to grow as a percentage of total commerce, and DTC will move from B2C to C2B because of advancements in mobile technology.
Prose, a haircare brand, offers consumers the opportunity to complete a 25-question quiz, following which they meticulously examine over 80 aspects in order to develop personalized formulas for shampoo, conditioner, and various other hair care products.
Search volume for "Prose Hair Care" is up 200% over the past five years & sales have crossed $100M
Inhibitors of Hyper-Personalization Beauty Trend
Cost & Accessibility
of AI, ML & Data Analytics
The cost and accessibility of technology will go down drastically as the supply of vendors and the know-how improves, which is inevitable with huge investments by stakeholders & benefits to the consumer. This is not going to be a significant inhibitor in the future.
Privacy concerns and data breach
This is a legit inhibitor but can be countered with transparency, stronger data security and a way to source and record data without any personal attribution possibe. 
Regulatory and legal constraints
Regulatory guidelines to protect consumer health & safety with personalization are likely to become more stringent. But, it is unlikely to become a deterrent or an obstacle. 
Supply chain cost & unit economics
Supply chain cost & unit economics, as we move to custom from hyper-personalization, will likely go up. Beauty brands and retailers will need innovative sourcing, production & inventory models.
Summary for Hyper-Personalization Beauty Trend
Consumers are seeing the benefits of technology-driven personalization of products as they cater to an unmet need. They get better results as the ingredients & formulations are designed specifically for them. The hyper-personalization trend arises due to massive competition in the beauty industry and is enabled by the advancement in the AI industry simultaneously. 
AI is projected to grow exponentially in the coming few years. If predictions of stalwarts, like Sam Altman & Elon Musk, at the cutting edge of  AI are to come true, and the unit economics of custom production improves then we aren't that far from a day when every consumer will have a product designed and developed only for them, even beyond hyper-personalization!
The future market will be driven by Consumer to Business, leaps in technology will make hyper-personalization a necessity for beauty brands, like loyalty points of today, and will also get more refined producing more compliance & better results feeding the funnel back for a virtuous cycle
Cost & Accessibility ofAI, ML & Data Analytics will go down drastically for even smaller beauty brands, but privacy concerns and data breaches will introduce more substantial regulatory constraints demanding higher data security and transparency from brands.
Prediction
-The biggest driver of a sticky innovation are the results, both functional & emotional, the end consumer is able to achieve on her own.
-Results are impacted by formulation & using the product the way it is intended.
1.Hyper-personalization delivers the right formulation plus induces compliance thereby creating a virtuous cycle with jumps in technology & an increase in accessibility of the same.
2. Privacy concerns will be overcome by regulatory compliance and data transparency.
3. Need innovation in sourcing, production and inventory management.
Hyper-Personalization will become huge and omnipresent driven by consumer demand & adoption with solid assurance around privacy, incentivizing brands to innovate supply, MFG & Inventory because of premium profitability.
2. Biotech

Beauty Trend Will See a Big Boom Beyond 2023
Biotech Beauty encompasses application of a wide range of areas, such as biochemistry, molecular biology, genetics, microbiology, biotechnology, and nanotechnology,fermentation and even artificial intelligence amongst others to formulation and manufacturing of beauty products.
As of 2022, the global cosmetics active ingredients market reached an approximately $5 billion valuation, with biotechnology accounting for slightly over 20% of the market share. Notably, the biotechnology segment is the fastest-growing category within the industry, boasting a compound annual growth rate (CAGR) of over 7%. This growth rate outpaces the average 5% growth observed in the broader active ingredients category.
Drivers of Biotech Beauty Trend
The beauty industry has witnessed a surge in the popularity of eco-friendly and ingredient-conscious products, commonly referred to as "green" and "clean" beauty. A recent survey conducted by the NPD Group revealed that 68% of consumers actively seek out brands that prioritize the use of clean ingredients. However, solely relying on this approach does not provide a comprehensive solution to the sustainability issues we face. It is essential to acknowledge that the Earth's capacity to produce sufficient plant-based resources falls short of meeting the demands of the beauty industry. For instance, consider the staggering amount of 200,000 rose petals required to extract just a few millimeters of rose oil. This is where biotechnology steps in as a game-changer, offering promising solutions to these challenges.
Developing the same ingredients inside labs is like having the best of both worlds. You don't compromise natural resources or adversely impact them while producing the same impact as ingredients found in nature.
Biossance is a skincare brand that utilizes biotechnology to develop sustainable and eco-friendly beauty products. They produce a key ingredient, squalane, from plant-based renewable sugarcane, using biotechnology processes that minimize environmental impact.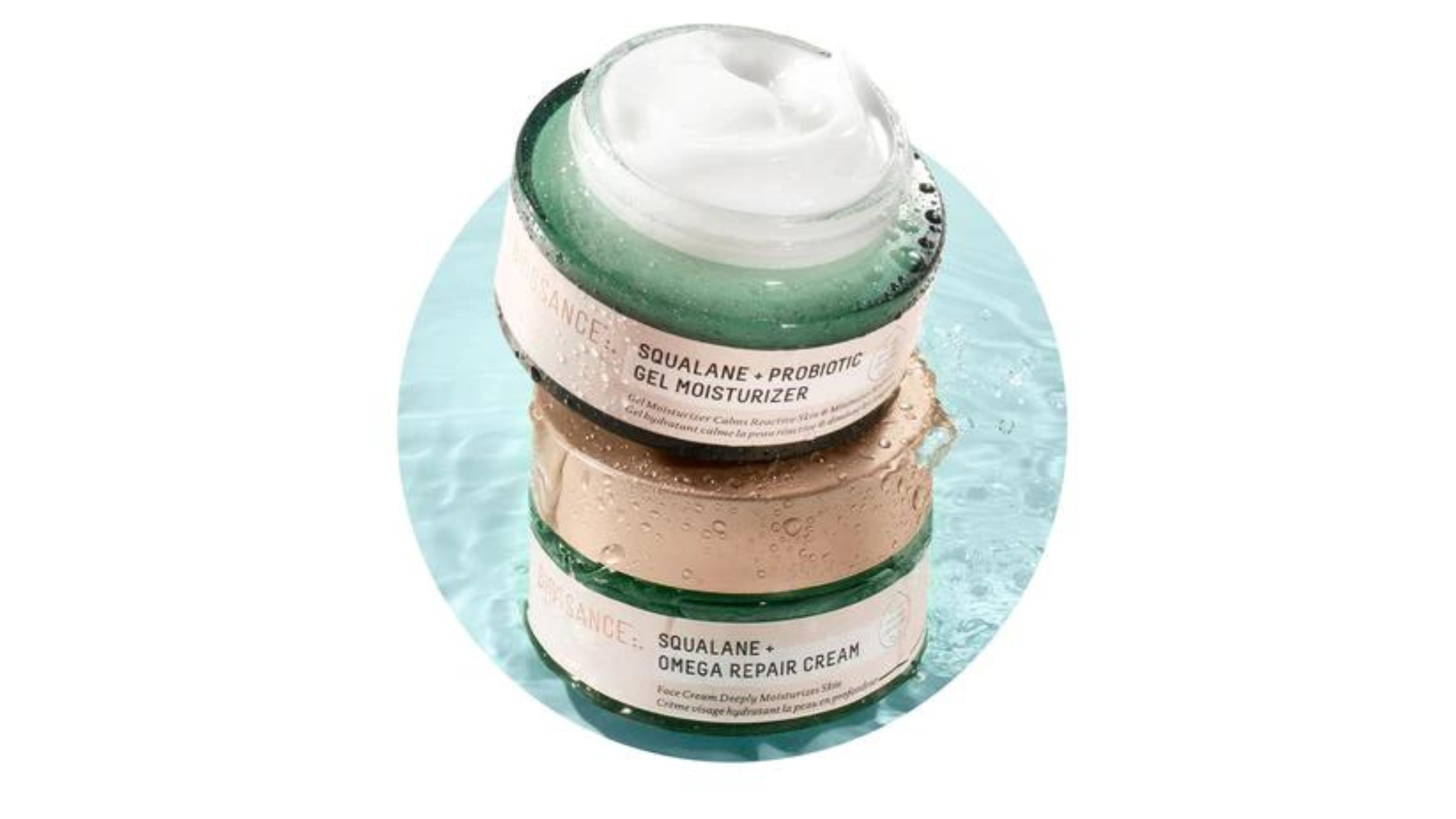 Biossance uses cruelty-free and sustainable squalene in all its serums.
Codex Beauty Labs, a bioscience-driven beauty company, uses comfrey as a moisturizing agent in their products. Comfrey is a plant-based ingredient that Codex optimizes for its benefits using biotechnology. 
The brand forms plant-based, eco-friendly, and cruelty-free products. They use 50% PCR PET bottles for their packaging to reduce their carbon footprint. 
Search volume for Codex Labs has increased 100% over the past 2 years.
Formulation Effectiveness
With the help of technologies like artificial intelligence and nanotechnology, Biotech has the potential to create more powerful and effective ingredients by studying and coming up with innovative permutations and combinations without any eco impact.
Virtue, a biotech hair care company, uses a transformative Alpha Keratin protein. The sustainable ingredients bring a 138% increase in color appearance.
The body recognizes Alpha Keratin as its own and reduces frizz by 67%. No matter how damaged the hair is, it achieves 97% split-end reparation.
All the products of Virtue are free from toxins such as sulfates, phthalates, synthetic dyes, and parabens contaminating the environment and damaging our hair.
Virtue Labs just raised another funding round(Series D-unconfirmed) on May 24, 2023
Biotechnology provides an opportunity to formulate beauty products without dubious ingredients. Evolved by Nature, a biotech brand backed by Chanel, raised $120 million in series C funding in June 2022. The brand created Activated Silk biotechnology, which aims to replace 560,000 metric tons of potentially skin-irritating acrylic acid and 1,056,000 metric tons of sodium laureth sulfate, a common surfactant in personal care products. The unavoidable presence of these ingredients in certain industry sectors has caught the attention of investors and established beauty brands' attention, highlighting biotech's potential.
Evolved by Nature raised $120M in Series C funding in June 2022
Inhibitors of Biotech Beauty
The cost & accessibility of technology is likely to go down with projected explosive advancement in technology especially artificial intelligence.
Fear of lab-made and genetically modified formulations will be a force impacting consumer trust. Transparency, efficacy and safety will balance conservative thinking. A big role will be played by organizations influencing the narrative. Consumers experiencing benefits will help the cause of trust.
Regulatory & Legal Constraints
Compliance needs will likely go up, but technological advancements can bring time & cost down for testing for getting approvals.
Summary for Biotech Beauty Trend
Biotech Beauty will undergo mass adoption championed by technology users in response to growing consumer demand for plant-based formulations answering beauty's demand for sustainability at scale, a leap in personalized, targeted formulations, and skin health.
The biggest inhibitor for the Biotech Beauty trend seems to be consumer trust in genetic modifications and lab-made formulations & independent consumer advocacy groups will influence this in the short term and the consumer experience with Biotech Beauty over the long term.
Prediction:
-The biggest inhibitor of a sticky innovation is the lack of desired results & consequences of adoption over the mid-term to long-term.
-Results will determine if consumers will keep paying a premium & consequences on health & safety will influence the ultimate adoption of the trend.
1. Biotech Beauty is likely to be championed by a cross-section of sustainability groups and consumers & consumers with tough skin issues.
2. Biotech Beauty will likely be inhibited by consumer advocacy groups & perceptual concerns around safety
Biotech Beauty has the potential to become huge as it can deliver unprecedented results especially with the exponential growth and advancement in technology including Artificial Intelligence. A potential risk is clean beauty movement turning against the trend citing genetic modifications inside a lab as a threat to our health & species
Hyper-personalization and biotech beauty are poised to become significant trends extending beyond 2023. The convergence of advanced biotechnology and personalized beauty solutions holds immense potential. Through in-depth genetic analysis, targeted formulations, and AI-driven data integration, beauty products will be tailored to individual needs, addressing specific concerns more effectively.
With a focus on genetic markers, skincare and cosmetic treatments will tackle underlying causes, revolutionizing the industry. Furthermore, the integration of biotech beauty will extend to sustainable practices, minimizing environmental impact and promoting ethical sourcing. As consumer trust grows through transparency and positive experiences, hyper-personalization and biotech beauty will reshape the beauty landscape, offering innovative, precise, and sustainable solutions.
Also, read this article to find out how your beauty brand can avoid failure and the 11 common mistakes made by a beauty founder.
Jump accelerates women-led, early-stage beauty brands with a custom fit, full & fundamental solution based on science & emotion.