Learn how super smart Canadian beauty entrepreneurs created and built their brands with powerful brand stories without significant investment and within a few years!
Studying Tier 1 Consumer Packaged Goods brands does not always help in understanding how to build great brands with limited resources. Most of those brands were built over at least 2-3 decades, and with hundreds of millions of dollars of investment every year!
1. DECIEM
Brandon Truaxe, the late founder of DECEIM, The Abnormal Beauty Company, realized more than the power of opposites in differentiating. 
DECEIM launched 10 brands at the same time when conventional logic says launch one and test the waters. When every brand was trying to charge more by hitting the aspirational nerve for women, DECEIM cut through the marketing manipulation and offered products at the cost of 1/10th the popular brands with the same efficacy.
The Story sounded abnormal, but it was totally relevant to a consumer whether being cost-effective or proven scientific efficacy with utmost transparency. The story was delivered through a set of coordinated activities that reinforced the Story Core.
You might argue that they play on cost and not on story but having their own stores, lab-like packaging, launching 10 brands, scientific names of chemicals highlighted not just shared transparently and the abnormality of the barebones retail store not to mention the founder's Instagram videos sure make for a great cohesive story.
$300 million dollars in revenue within 5 years of launch is beyond "no joke".
Framework Dissection:
Relevant: More than just cost, frustration by hype and psychological manipulation.
Surprise: Everything portrayed as abnormal, Barenaked, and topped by a true genius-Brandon Truaxe! 
Functional beauty brands with scientific jargon front and center. Launched 10 beauty brands at one go. Masstige brand The Ordinary at 1/10 the cost but same effectiveness as the marketing-hyped brands. 
Coherent: Coordinated set of activities at all touchpoints: retail store, back end, product packaging, storytelling, transparency.
2. NUDESTIX
Jenny Frankel, Founder and President of Nudestix, realized that cosmetic users of all ages and skin tones crave sleek, modern, and natural beauty products that complement a fast-paced, busy lifestyle. 
Inspired by Ally and Taylor, her daughters, who preferred products that required less than 10 minutes on makeup in the mornings, Jenny launched Nudestix in the spring of 2014 with makeup crayons that are a fit for the beauty lover on-the-go.
NUDESTIX is a collection of foolproof makeup crayons that take care of all of your glam needs, leaving you with a fresh-faced, no-makeup makeup look that lets your natural beauty shine through. 
Framework Dissection
Relevant
On the go makeup for the busy consumer without compromising on health.
Surprise
No makeup makeup look with natural crayons in less than 10 mins.
Coherent
Enriched with skincare vitamins, antioxidants and natural moisturizers, NUDESTIX multipurpose pencils are packed with the best ingredients and all of the goodness you need to #GoNudeButBetter. 
3. 7 VIRTUES
The 7 Virtues is a social enterprise founded in 2010 by Barbara Stegemann. They source fair trade, natural and organic essential oils to support farmers rebuilding after war or strife. All of their peace perfumes are available in the Clean space at Sephora in the USA and Canada.
Framework Dissection
Relevant
Their fragrances share the positive stories of nations rebuilding. Consumers love the fact that Barbara takes leadership on a cause coupled with natural and healthy fragrances for them.
Surprise
One woman can change the world. For the damage caused by countries with a GDP of 100s of billions of dollars if not trillions, one woman is trying to rebuild nations post-war or strife. 
Coherent
Each fragrance is sourced from a different country, including Afghanistan, Haiti, Rwanda, Madagascar, India, Egypt, and the Middle East.
They make durable, natural perfumes without toxic chemicals. The peace perfumes are without phthalates, parabens, sulfates, formaldehyde, or UV inhibitors. The brand helps farmers and lets the consumers carry the hypoallergenic fragrances to work or any place.
4. CHEEKBONE BEAUTY
Cheekbone Beauty is an Indigenous-owned, DTC, Canadian makeup brand established in 2016 by Jennifer Harper.
Cheekbone aims to go beyond making a difference in the lives of Indigenous youth via donations for the educational money gap and design a space for Indigenous youth representation in beauty.
Framework Dissection
Relevant
Cost-effective, cruelty-free cosmetics with liquid lipsticks and complexion products including contour and highlight palettes. 
Surprise
Cosmetics brand championing representation for indigenous youth, so they see their value in this world. 
Coherent
Brand name inspired by the indigenous community along with collections such as Warrior Women Lipstick Collection. 10% of Cheekbone's profits are donated to Shannen's dream, an organization funding education for first nation's children. 
5. BITE BEAUTY
Susanne Langmuir founded Bite Beauty, a Toronto-based clean beauty brand and then sold it to Kendo brands, an LVMH company. Bite is a cosmetics brand focused on lipsticks with food-grade ingredients.
Framework Dissection
Relevant
Targeted at the younger audience, Bite's products are loud and cutting edge with a personality, for those who want fashion on top of clean and natural.
Surprise
The lipstick you could eat and with a fashion-forward personality for a clean cosmetics brand.
Coherent
Loud and ahead of the curve, fashionable packaging, and products with edgy shades and nomenclature such as Power Move Creamy Matte Lip Crayon.
The packaging is edgy. BITE is written vertically on the lipstick as a confident request to bite. There is a Lip Lab for custom lipstick that helps express consumer's unique personality with color experts in-store or online.
6. COVER FX
Launched in 2000 in Toronto, Cover FX creates high-performing, multiple award-winning formulas, which are innovative and customizable, with a diverse range of foundation in 40 shades and three undertones.
Framework Dissection
Relevant
Clean and vegan formulas, which are free of parabens, minerals oils, and harmful chemicals.
Surprise
Customized makeup that celebrates diversity and provides full coverage.
Coherent
Each product provides full coverage and is delivered in diverse shades. For example, Power Play foundation is available in 40 shades, is sweatproof, waterproof and transfer-proof. 
7. ILIA BEAUTY
Launched by Sasha Plavsic in Vancouver in 2011, ILIA is an early mover in clean beauty, and is a high-end, organic, and sustainable brand that sells in close to 15 countries globally.
Framework Dissection
Relevant
Beyond natural, ILIA is a clean beauty brand with consciously selected ingredients that are assuredly safe.
Surprise
Skin-centric beauty and skincare-powered makeup. 
Beyond botanicals, the brand sees skincare and makeup as one. The makeup formulas have active levels of skincare ingredients that shield the skin from external damage.
Coherent
Wake up skin, make up the rest. The daily essentials instantly revive your look, with multi-use products and easy application on the go.
8. CARGO COSMETICS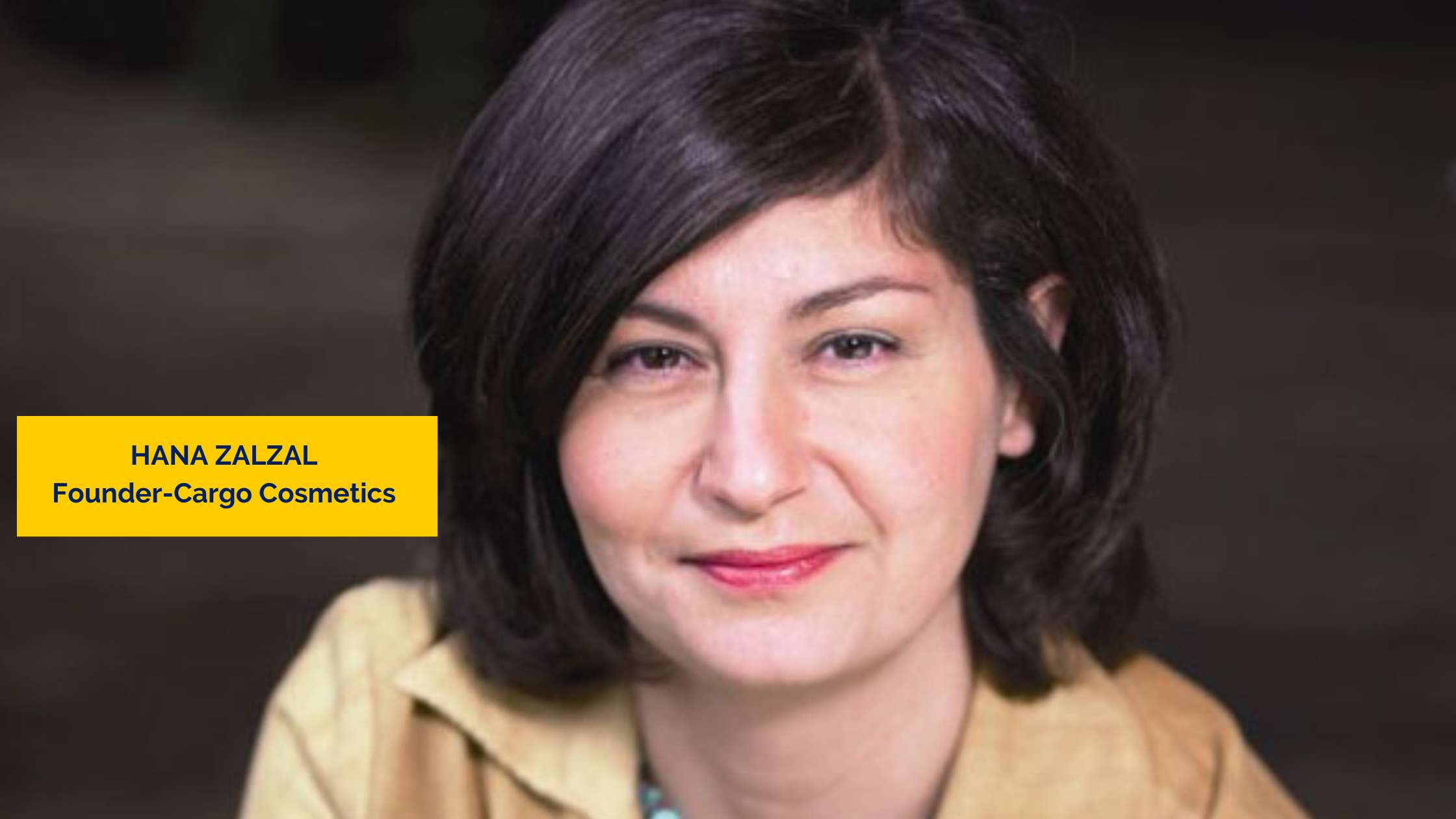 Launched in 1996, Cargo Cosmetics, a Canadian makeup brand is for the traveler who wants to travel light with makeup as the cargo. Cargo cosmetics is a remarkable brand story targeted at free-willed and adventurous trendsetters. The brand celebrates the journey as equally important as the destination.
Framework Dissection
Relevant
Simple and professional makeup line that is easy to produce results with.
Surprise
For the independent traveler who likes to have unique and adventurous experiences.
Coherent
Innovative formulas suited for traveling. Comfortable to carry packaging, which is easier to squeeze to the very last drop.
9. CAKE BEAUTY
Heather Reir founded Cake Beauty in Kitchener, Ontario, Canada, to create a girly indulgence with healthy ingredients. The brand offers natural and luxe confections of bath and body, hair, and skincare.
Framework Dissection
Relevant
A cruelty-free brand with natural ingredients that fit your lifestyle.
Surprise
The brand evokes girly sweetness unlike any other, which is fun, playful, and indulgent.
Coherent
Everything, from product formulations, product names, images, packaging, and look and feel of the site and, of course, the brand name is coherent with the core brand idea of "girly sweetness + healthier ingredients"
CONCLUSION
Each of the 9 beauty CPG startup brands mentioned is relevant to their target consumer.
They have an element of surprise( especially when they launched). The brand story is coherent across all touchpoints: site design and messaging, product names, packaging, initiatives, and told coherently on social media.
These brands did not spend money on mere creative storytelling, as an afterthought, nor on heavy paid advertising. First, they created a powerful brand story with an element of surprise that is relevant and applied coherently to all touchpoints.
A brand story is the core emotional promise applied coherently to all touchpoints.
The framework is simple and is not too difficult if you are critical of your beliefs and assumptions about your brand, competitors, and target consumers.
Do you have an element of surprise? How relevant are you? How coherently is your surprise element applied across all brand touchpoints?
WANT TO KNOW YOUR BRAND STORY SCORE?
ROHIT BANOTA, Founder of StorySaves, has transformed dozens into envied beauty brands for their next phase of sharp and profitable growth,
He has over 17 years of marketing and business experience growing consumer packaged brands including with startups and MNCs like P&G Beauty and Grooming.